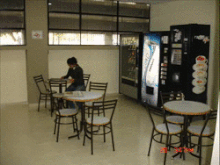 A sala - ou espaço - do café, foi idealizada para proporcionar um momento de descanso e socialização. Ela possui jornais e revistas, bem como máquinas de guloseimas, refrigerantes e café.
Foi inaugurada em 2009 no espaço outrora ocupado pela sala de fotocópias, e faz parte do projeto de Biblioteca Viva, cujo conceito é o de proporcionar maior participação do usuário com o ambiente.
Ad blocker interference detected!
Wikia is a free-to-use site that makes money from advertising. We have a modified experience for viewers using ad blockers

Wikia is not accessible if you've made further modifications. Remove the custom ad blocker rule(s) and the page will load as expected.