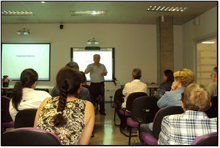 A Sala Multimídia[1] da Biblioteca do Conjunto das Químicas, inaugurada em agosto de 2012 no espaço anteriormente ocupado pela coleção dos periódicos do ano corrente, conta com diversos recursos como videoconferência, projetores e lousa digital, podendo ser utilizada para a realização de aulas, palestras, defesas de teses e dissertações, e outros eventos. Alunos da graduação ou pós-graduação podem utilizá-la, desde que tenha um professor da Universidade responsável pelo evento e reserva do espaço.
Equipamentos da Sala
Edit
Sistema de videoconferência Polycom;
3 projetores de curta distância;
Computador Core III, 4 GB RAM, HD 500 GB (instalado na sala de controle);
Mesa de som;
Conversor de vídeo;
Matriz de vídeo;
Switcher (seletor de vídeo);
2 câmeras;
Controle para câmeras;
3 microfones;
Processador de áudio;
Amplificador;
2 caixas de som;
4 módulos de monitores;
Cabeamento de áudio e vídeo;
Lousa interativa eletrônica;
2 telas retráteis para projeção;
6 pontos de rede;
Rack aberto para monitores;
Nobreak;
Estabilizador;
Antena de rede sem fio;
2 aparelhos de ar condicionado.
Softwares presentes nos equipamentos da Sala
Edit
Microsoft Windows 7 Professional;
Microsoft Office 2010 Professional;
Programa de captura da lousa interativa eletrônica.
Imagens da Sala Multimídia
Edit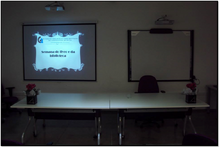 Ad blocker interference detected!
Wikia is a free-to-use site that makes money from advertising. We have a modified experience for viewers using ad blockers

Wikia is not accessible if you've made further modifications. Remove the custom ad blocker rule(s) and the page will load as expected.