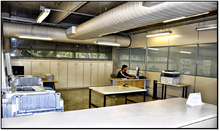 A Biblioteca do Conjunto das Químicas possui uma sala com máquinas copiadoras laser que podem ser utilizadas pelos seus usuários no sistema de auto-serviço, ou seja, onde o próprio usuário utiliza as máquinas para realização de suas cópias. Atualmente, o serviço custa R$ 0,10 por cópia, e elas são apenas em preto-e-branco. O funcionário presente na sala realiza a supervisão do serviço e a orientação no uso das máquinas, bem como sua manutenção e cobrança dos valores devidos.
Os horários de funcionamento são: de 2ª à 6ª feira, das 9h00 - 20h00 e, aos sábados, das 8h00 - 12h30. Durante os períodos de férias escolares e datas sem aulas segundo o calendário da USP, o funcionamento do serviço tem seus horários alterados: de 2ª à 6ª feira, das 9h00 - 17h30 e, aos sábados, permanece fechada. A sala fica fechada durante os horários de almoço e, eventualmente, noutros períodos durante o dia, devido ao reduzido número de funcionários.
A localização da sala do serviço de cópias - ou "sala da xerox", como é comumente conhecida - é ao lado dos acessos ao prédio anexo da Biblioteca.
A sala também emite guias aos usuários que necessitarem comprovar gastos no local e atende requisições de cópias emitidas pelo Instituto de Química, Faculdade de Ciências Farmacêuticas da USP e pela própria Biblioteca para cotas de docentes/ funcionários.
Ad blocker interference detected!
Wikia is a free-to-use site that makes money from advertising. We have a modified experience for viewers using ad blockers

Wikia is not accessible if you've made further modifications. Remove the custom ad blocker rule(s) and the page will load as expected.